ROLLS-ROYCE MOTOR CARS WRAITH NAMED AMONG EDMUNDS.COM'S TOP RATED VEHICLES FOR 2014
April 16 2014, New York
Today at the 2014 New York International Auto Show, Rolls-Royce Wraith was named one of Edmunds.com's Top Rated Vehicles for 2014. Wraith, which had its North American debut at the 2013 New York International Auto Show, presents a masterpiece of elegant simplicity, exuding poise and hints gently at the noir. Every inch of the vehicle is a refined and luxurious Rolls-Royce with performance to complement the drama of its exterior styling.
Upon receiving the Edmunds.com award and top rating for Wraith, President of Rolls-Royce Motor Cars NA, Eric C. Shepherd said, "Rolls-Royce Motor Cars is honored to receive this Top Rated Vehicle award for Wraith. We feel that this latest model complements the marque perfectly while becoming the boldest, most powerful Rolls-Royce that has ever played host to the famous Spirit of Ecstasy figurine."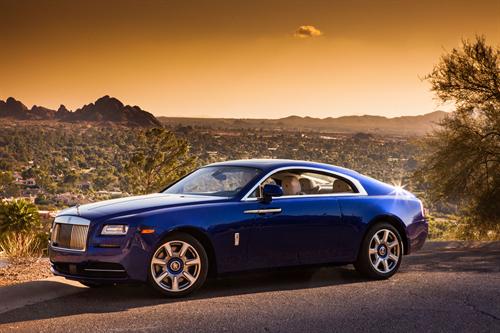 Wraith – Power, Style, Drama
In its design, Wraith presents a masterpiece of elegant simplicity, exuding poise and the promise of dynamism. There is a sense that the car is ready to move with purpose on its driver's command.

Grace and beauty define the exterior presentation. The swept lines of the fastback, a style whose origins can be found in 1930s automotive design, most clearly signal its purposeful character, one which hints gently at the noir.
Performance complements the drama of exterior styling. A shorter wheelbase, wider rear track, 624 bhp/465 kW derived from the twin turbo V12 and a 0-60mph of 4.4 seconds (0-100kph, 4.6 seconds) give expression to the car's dynamic looks.
"The 2014 Rolls-Royce Wraith delivers astonishing power, presence and incomparable luxury in a hulking grand touring package, which is why it has been named among Edmunds.com's Top Rated Vehicles this year," said Edmunds.com Editor in Chief, Scott Oldham.
Wraith debuted the most intelligent drive train to be featured in a Rolls-Royce, including the application of ground-breaking technologies like Satellite Aided Transmission (SAT). This processes GPS data to predict the driver's next move and automatically selects the right gear for the road ahead. Complementing SAT, Wraith's further dynamic enhancements include a more direct steering response to aid precision in corners, as well as dynamic spring and damper settings.
In short, Wraith has become the ultimate gentleman's Gran Turismo building upon the historic endeavours of Sir Henry Royce and the Honorable Charles Rolls, pushing the boundaries of design and engineering.