Prior Design Mercedes Benz E-Class Coupé PD850 Black Edition Widebody (C207)
The aerodynamic specialists of Prior Design from Kamp-Lintfort are presently causing quite a stir with ever new car body kits for current sports car and coupés that are presented in fast sequences.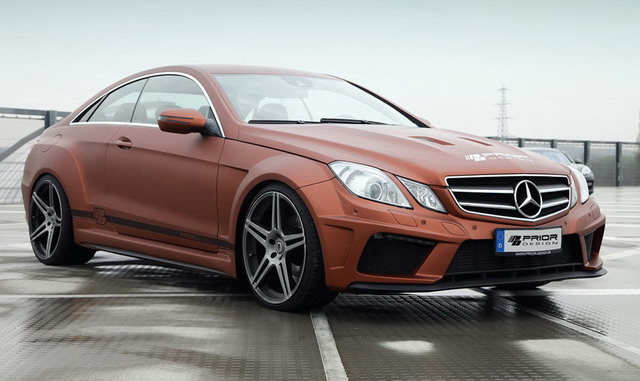 The "PD850 Black Edition Widebody" kit for the Mercedes E-Class coupé will henceforth complement the portfolio of the tuning experts from the Lower Rhine region. This broad body kit transforms the Stuttgart flagship with its serial graceful elegance, to a muscular, broad-shouldered bodybuilder! In addition to the front fenders that are largely responsible for this development and the widened rear body, the wide-body kit includes a new front spoiler bumper bar, a rear bumper bar including diffuser, side skirts and a baggage compartment spoiler and an engine hood top frame. Moreover, Prior Design optionally offers perfectly-fitting slim-line LED daytime running lights for the body kit as well as optionally, exhaust deflectors or also complete sports exhaust systems.
With the company's own PD1 light alloy wheels of the size combination 9x20 and 10.5x20 inches (ET40 respectively) that are obtainable in metallic silver, metallic black, metallic dark silver and matt black finishing, Prior Design is offering a perfect "fill-up" for the voluminous wheel houses of the wide-body creation. A coilover system of the company KW is responsible for the lowering of the coupe, which also gives the C207 a clearly optimized cornering dynamics.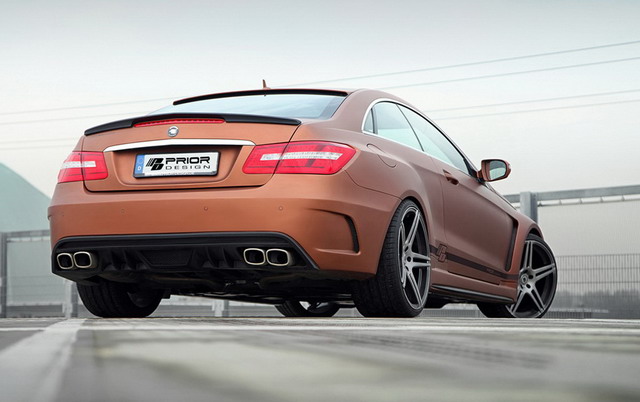 The Prior Design body kit for the Mercedes Benz E-class coupe is alternatively, also obtainable in the "slender" version. This then comprises bumper bars for the front and rear, side skirt and an engine hood top frame. Interestingly, all the parts of this body kit can also be individually re-fitted.
The complete assembly of the bodywork parts as well as the painting or wrapping of same can of course, be performed by Prior Design or any authorized European Prior Design dealer whenever required.
The PD850 Black Edition is made of high-grade Dura-Flex material which stands out for excellent surface structure and combines sufficient flexibility with high stability. The high fitting accuracy of the attached Dura-Flex parts also enable a simple and cost-effective assembly.