The all-new Continental GT makes its global debut at the IAA 2017
All-new Bentley Continental GT makes global debut in Frankfurt
The definitive luxury Grand Tourer: designed, engineered and handcrafted in Britain
0-litre W12 TSI engine delivers 635 PS (626 bhp) and 900 Nm (664 lb.ft.)
0-100 km/h in 3.7 seconds (0-60 mph in 3.6 seconds); top speed
of 333 km/h (207 mph)
New limited edition Mulsanne Design Series by Mulliner also debuts, showcasing brand-new Tessellated coloured carbon fibre
Special Mulliner-created Flying Spur V8 S model will be exhibited
The world's fastest SUV - the Bentayga W12 – is also on display
Immersive Tech Lab on stand showcases Bentley's technology
Press conference at 11:45 on September 12; Stand 3 Hall A07
The all-new Continental GT makes its global debut at the IAA 2017 in Frankfurt on 12 September.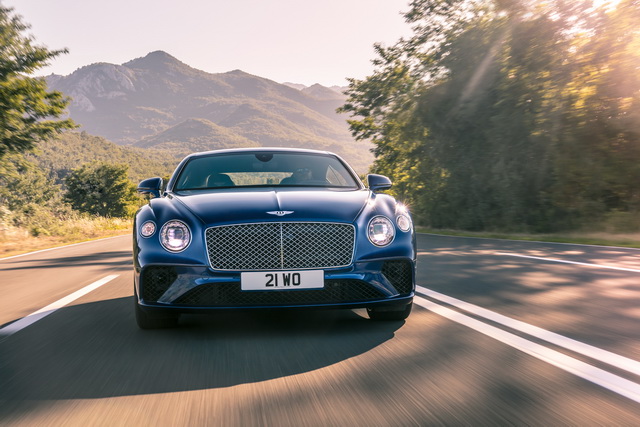 The third generation of the legendary Bentley Continental GT is designed, engineered and handcrafted in Great Britain, ensuring the highest levels of attention to detail, artistry and cutting-edge technology are blended together to create the finest Grand Tourer ever produced.
The new Continental GT features an all-new, enhanced version of Bentley's celebrated 6.0-litre, twin-turbocharged W12 TSI engine which, for the first time, is available with a dual-clutch eight-speed transmission.
The sprint to 100 km/h takes 3.7 seconds (0-60 mph in 3.6 seconds) with top speed reached at 333 km/h (207 mph). The New Continental GT also has a Grand Touring range of 740 km (460 miles).
A new, technically advanced, adaptive chassis uses Bentley's intelligent
48-volt Dynamic Ride System to ensure a responsive ride and exceptional handling and refinement in all road conditions. The new system controls ride comfort and lateral roll, cushioning passengers from excessive movement as well as making the car feel effortlessly precise.
The more sculptural and sharply defined muscular exterior design is complemented by a luxurious interior packed with exquisite details that showcases major evolutions in Bentley's unique application of technology, including an advanced, fully digital, driver-focused instrument panel and revolutionary Bentley Rotating Display.
The limited edition Mulsanne Design Series by Mulliner also debuts at Frankfurt. Inspired by the latest trends in high-end interior design and fashion, the new model – debuting in striking King Fisher Blue – pushes the boundaries of what is possible with carbon fibre.
It features an all-new tessellated coloured carbon fibre, inspired by high-tech sportswear, and available in a choice of three signature Mulliner colours, including King Fisher, Metallic Silver and Metallic Bronze. This accent colour continues through the interior cabin and is featured in the Hidden Delights areas of the car.
On the exterior, a gloss black vertical vane grille, side vents, window surrounds, dark tint 'Flying B' mascot and 21" Speed wheels with a bespoke finish give the car a purposeful stance.
The Mulliner bespoke coachbuilding team has also created a special one-off Flying Spur V8 S for the Frankfurt expo. Delivering a standard of exclusivity that is unmistakably Mulliner, this unique model features a three-tone interior lined with Portland, Porpoise and white hides inspired by the classic coachbuilding era. White accents are featured throughout the interior with a special white bezel on the centre console clock and white diamond quilted stitching on the seats. Outside, Mulliner has created a Duo-Tone Light Windsor Blue over Dark Windsor Blue with a white fine-line.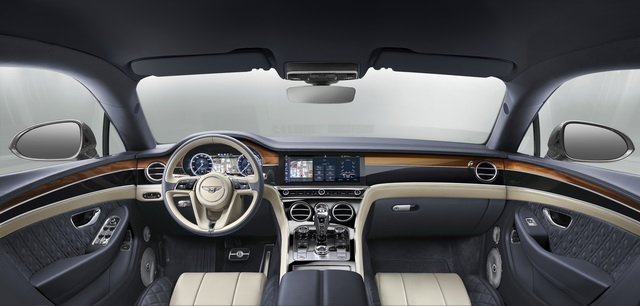 Completing the Bentley line-up on the stand is the world's only true-luxury SUV – the Bentayga – which combines unparalleled luxury with sporting ability, off-road performance and everyday usability. With its 6.0-litre, twin-turbo W12 powerplant, the Bentayga can accelerate from standing to 60mph in just 4.0 seconds (0-100 km/h in 4.1 secs) before hitting a top speed of 187mph (301 km/h).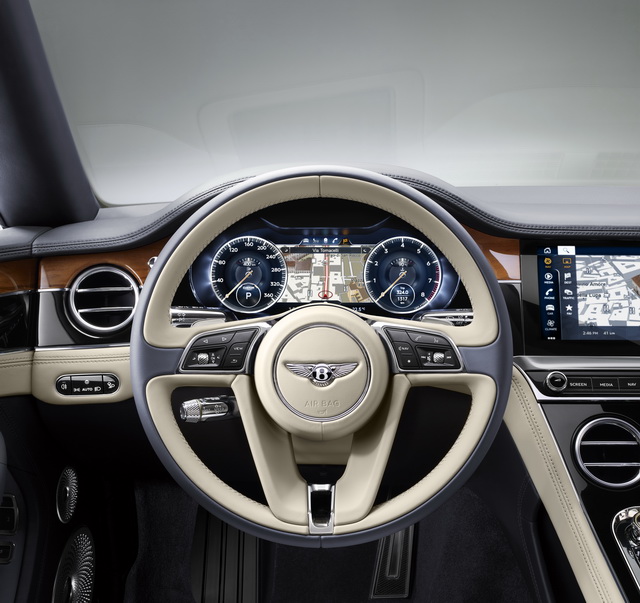 In addition to displaying an array of the world's most luxurious and desirable cars, the British manufacturer is hosting a new tech lab – an interactive area dedicated to showcasing Bentley's breadth of technological and engineering excellence.
The tech lab will take visitors on a journey of discovery through various engineering gateways in the process of building the highest quality performance cars in the world.