Alpra Design Calendar 2011 "Traditional Coupe Body Style"
The roots of the Alpra design calendars go back to the year 1994. Calendar once again focuses on the traditional topic of car design. It was conceived, drawn and designed by Aleksander Praper. Nowadays car manufacturers often misuse the word "coupe" for vehicles which in reality are not coupes. Therefore the Alpra design 2011 calendar is dedicated specifically to this traditional vehicle body style. On twelve pages you can see ideas of various coupes. All depicted vehicles are based on imagination and cannot be seen in the real world. They don't belong to any existing car brand. They were designed especially for the Alpra design calendar 2011!
http://www.alpra.com/calendars.php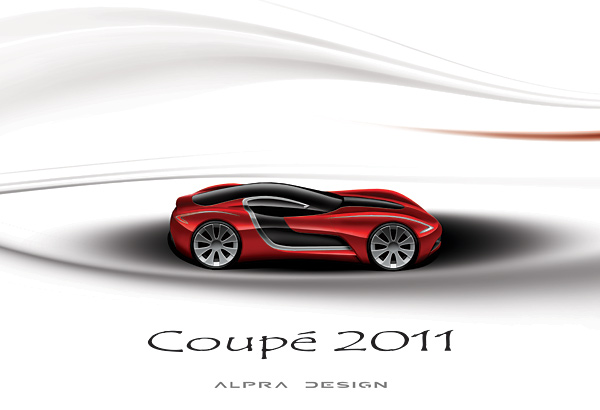 Exclusiveness
Calendars Alpra are exclusive calendars. They combine aesthetics, art of drawing, technical knowledge and designers skills. Their size, print quality and most of all - an exotic theme - place them among rare calendars.


Calendar
• Ideas of future exotic coupes by Alpra design
• hand drawn and computer painted drawing
• Size: 49 x 34 cm (19,3" x 13,4")
• Front page + page with a describtion of the theme in four languages + 12 pages + Back page with data and space for buyers company logo (49 x 6 cm)
• quality 200 g paper
• calendars are numbered and signed
•
each c
alendar is enclosed in a cardboard box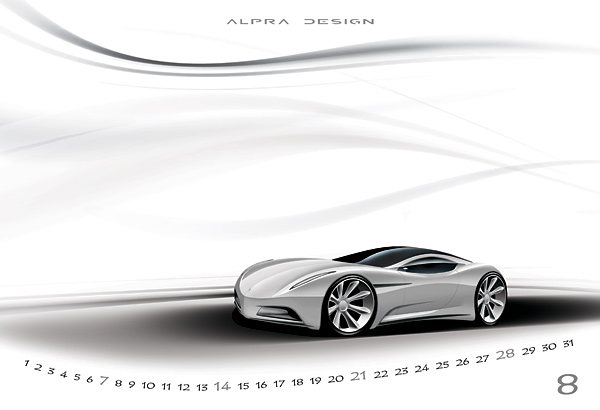 Author: Aleksander Praper
Author of ideas, drawings and graphic design is Aleksander Praper. Mr. Praper is a mechanical engineer, designer and an automotive journalist. Combining technical, aesthetic and practical knowledge, he has a good sense of what good car looks like and the way it works. All that knowledge can be sensed in his designs, which combine classic aesthetic and a great amount of love toward a genuine sports car. And his designs look like cars, not like toys from the future!