Modular Cargraphic exhaust for Porsche 997 Turbo 3.6 l / 3.8 l
We've all been there: When a great song is played on the radio your finger automatically slips on the volume button. Now Porsche 997 Turbo or 997 Turbo DFI drivers will be able to experience this phenomenon even when the radio is turned off. The sportscar specialists Cargraphic are introducing a remote-controlled, flap-operated exhaust system for both models. "Open", "Closed" and "Automatic Mode" (depending on rpm and the position of the throttle valve) are the available options. If all the flaps on the stainless steel exhaust system are opened, an acoustic fireworks display begins as now around 35% of the exhaust gases are being directly discharged via the outer tailpipes.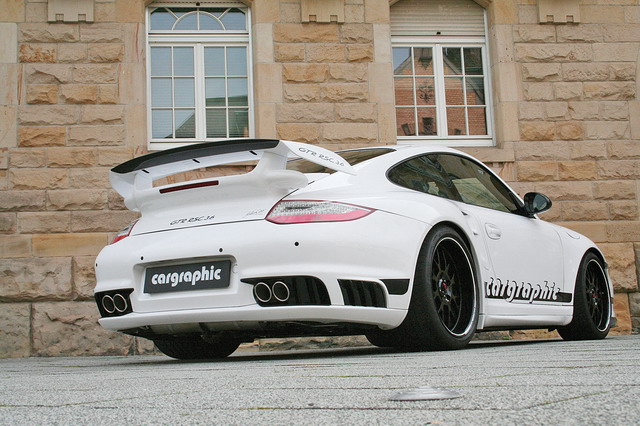 The net export price (without VAT) for the 3.6 l system is between 4,500 and 4,895 Euro (including TÜV approval and remote control). For the 997 3.8 l you are looking at an investment between 4,745 Euro and 5,139 Euro (TÜV approval to follow). However, the attractive resonator with its four 76 mm tailpipes doesn't just intensify the sound waves. TÜV-approved and compatible with OBD2 this masterpiece gives the 997 Turbo and the Turbo DFI an extra performance of 25 HP/19 kW and 30 Nm. A further highlight is that the Cargraphic exhaust, which is directly installed behind the turbo charger, is significantly lighter than the original system. Plus, an even more "dramatic" super-sound version is exclusively available for the markets outside of Germany. Thus, every excursion could easily become a concert tour.
Video: www.cargraphic.de/index.php?/s,6,7,18,2987,3080/&language=2