Jaguar Announces The Official E-Type 50th Anniversary Collectors' Book
21st February 2011: Jaguar has commissioned a beautiful 'Collectors' Edition' coffee-table book to mark the 50th anniversary of the car that stopped the automotive world in its tracks – the E-Type.
'E-Type – 50 Years of a Design Icon' charts the remarkable story of this revolutionary car and is available for online purchase now.
Launched at the Geneva Motor Show in 1961, the E-Type was the fastest production car in the world, capable of an incredible 150mph. Costing half the price of its rivals, the E-Type was the car to be seen in. Football legend George Best was an owner, along with Brigitte Bardot, Tony Curtis and Steve McQueen.
The 144-page hardback book contains a combination of previously unseen material from the Jaguar Heritage archives, newly commissioned photography and bespoke content featuring interviews with luminaries from the worlds of design, motorsport and celebrity, including Sir Jackie Stewart, Martin Brundle, Sir Stirling Moss and Jay Leno.
A must-have for both E-Type owners and Jaguar enthusiasts alike, the book is available in two stunning formats: a premium version and a limited-edition VIP volume. Each individually numbered VIP book is hand-bound in a specially commissioned reproduction of the E-type's original upholstery leather and presented in its own slipcase.
The premium version will retail for £49 whilst the VIP Version will retail for £299 and be available on a first-come, first-served basis.
The book can be pre-ordered for delivery in March from: www.fpcreative.com/sales/etypebook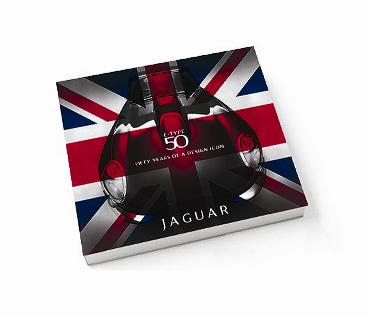 E-Type Facts:
The E-Type was presented to the world's press at the restaurant du Parc des Eaux Vives in Geneva on 15th March 1961. Such was the media excitement and clamour for demonstration runs up a nearby hillclimb that Jaguar founder Sir William Lyons instructed chief test driver Norman Dewis to drive through the night from Coventry to bring another model to Switzerland.
Even Enzo Ferrari admitted it was "the most beautiful car in the world".
The E-Type's straight-six engine had powered Jaguar to five Le Mans victories in the 1950s and by 1961 in 3.8-litre form produced 265bhp and 260lb ft of torque, making the car a genuine 150mph proposition and, like its XK120 predecessor, the fastest production car in the world.
At launch the E-Type cost £2,256 15s, including purchase tax and the all-important optional wire wheels, the equivalent today of just £38,000.
The E-Type's perfectly proportioned bodywork was the work of Malcolm Sayer, an aeronautical engineer by training who also applied his aerodynamic expertise in shaping the earlier Le Mans-winning C-Type and D-Type racers.
The E-Type remained in production for 14 years, selling more than 70,000 units, making it Europe's first mass-produced sports car.